Angela Merkel says Germany can no longer rely on America
"We Europeans must take our destiny into our own hands"

Angela Merkel has suggested Germany and Europe can no longer rely on the US under Donald Trump.
Speaking at a campaign event held in a Bavarian beer tent, the German Chancellor emphasised the need for friendly relations with the US, Britain and Russia, but added: "We Europeans must really take our destiny into our own hands."
Ms Merkel said that as the traditional western alliance is threatened by the new US presidency and Brexit, "the times in which we can fully count on others are somewhat over, as I have experienced in the past few days."
While Germany and Europe would strive to maintain relations with the US and Britain, Ms Merkel said, "we need to know we must fight for our own future as Europeans for our destiny."
Her comments came after Mr Trump said he needed more time to decide if the US would continue backing the Paris climate deal, which has frustrated European diplomats.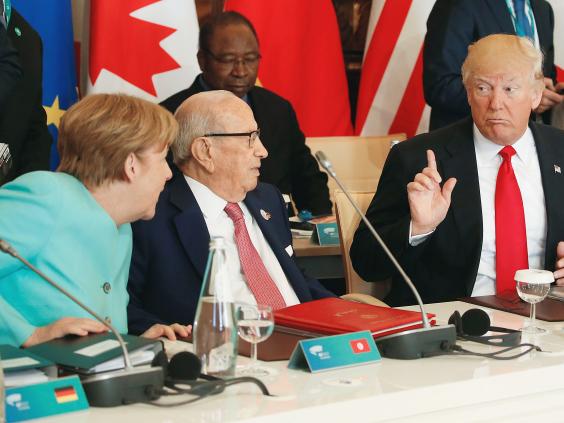 Mr Trump, who has previously called global warming a hoax, came under concerted pressure from the other leaders to honour the 2015 Paris Agreement on curbing carbon emissions.
"The entire discussion about climate was very difficult, if not to say very dissatisfying," she told reporters.
"There are no indications whether the United States will stay in the Paris Agreement or not."
G7 leaders went on to blame the US for the failure to reach an agreement on climate change, in an unusually frank statement which read: "The United States of America is in the process of reviewing its policies on climate change and on the Paris Agreement and thus is not in a position to join the consensus on these topics.
"Understanding this process, the heads of state and of government of Canada, France, Germany, Italy, Japan and the United Kingdom and the presidents of the European Council and of the European Commission reaffirm their strong commitment to swiftly implement the Paris Agreement."
Mr Trump has reportedly told "confidants" including the head of the Environmental Protection Angency Scott Pruitt, he wants the US to leave the international agreement on climate change, the Axios news outlet reported, citing three sources with direct knowledge.
A source who has been in contact with people involved in the decision told Reuters a couple of meetings were planned with chief executives of energy companies and big corporations and others about the climate agreement ahead of Mr Trump¦s expected announcement later in the week.
It was unclear whether those meetings would still take place.
Despite the Trump administration's talk of an "America first" policy and ongoing criticism of Germany for its massive trade surplus, the G7 summit in Sicily did vow to fight protectionism, reiterating "a commitment to keep our markets open".
They also agreed to step up pressure on North Korea, to forge closer cooperation in the fight against terrorism, on the possibility of imposing more sanctions on Russia over its role in the conflict in Ukraine.
Copyright Independent.co.uk
http://www.independent.co.uk/news/world/europe/angela-merkel-donald-trump-germany-us-no-longer-rely-european-union-climate-change-g7-a7760486.html